USA-Sri Lanka Chamber of Commerce in New York and the Embassy of Sri Lanka in Washington DC to boost US-Sri Lanka trade and investment linkages
Article by: Nimal Karunatilake and Prashantha Ratnayake, Esq.
The New York-based USA-Sri Lanka Chamber of Commerce (USASLCC) and the Embassy of Sri Lanka in Washington DC have agreed to work in close collaboration to enhance trade, investment, and tourism between the two countries. This understanding was reached at a meeting held on Tuesday, February 22, 2022, at the Sri Lankan Embassy in Washington DC, between H. E. Mahinda Samarasinghe, Sri Lankan Ambassador to the United States and Mr. Dillan Ariyawansa, President, USASLCC, making it the first official meeting between the newly appointed Ambassador Samarasinghe and the President of USASLCC. Several senior embassy officials and board members of the USASLCC also participated in the meeting.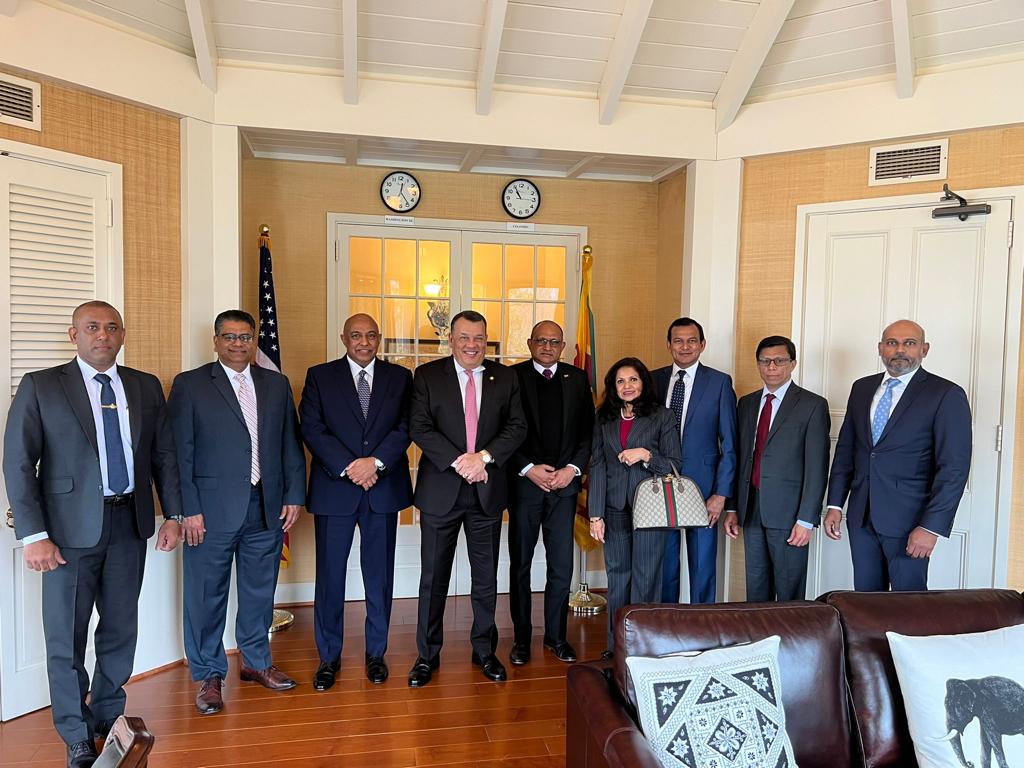 (L. to R.)
Sampath Wickremerathne, Minister (Defense) /Sri Lanka Embassy, Nalaka Dias, Treasurer/USASLCC, Dillan Ariyawansa, President / USASLCC, H. E. Mahinda Samarasinghe / Ambassador of Sri Lanka to the US, Rohana Ambagolla / Deputy Chief of Mission, Sri Lanka Embassy, Vajira Mendis, Vice-President/USASLCC, Nihal Mendis, Member /USASLCC, Nimal Karunatilake, Director /USASLCC, and Prashantha Ratnayake, Secretary / USASLCC
During their opening remarks, both the Ambassador and the USASLCC President acknowledged the importance of diversifying Sri Lanka's export basket, which is heavily dependent on apparel & textiles. They also agreed that their collaborative efforts should pay special attention to the needs of the SME sector. In this context, President of the USASLCC said that his chamber has already crafted an ambitious plan of action with special emphasis on facilitation of trade and investment projects of SME businesses.
Ambassador Samarasinghe stressed that Sri Lanka's export community should make every possible effort to take full advantage of the U.S. GSP program, which offers duty free market access for a wide range of products, except apparel & textiles. He also pointed out that the U.S.-Sri Lanka Trade and Investment Framework Agreement (TIFA) provided an ideal platform for the two countries to pursue mutual cooperation in the fields of trade, investment and tourism.
The value of annual imports from Sri Lanka to the U.S. presently averages around USD 3.0 billion, whereas Sri Lanka's imports from the U.S. remain around only USD 300 to 400 million. However, as much as 70% of Sri Lanka's total exports to the US is accounted by only apparel & textile products, while items such as rubber & rubber goods, gems & jewelry, machinery and mechanical equipment, tea & spices, sea food etc., share the rest.
The US exports to Sri Lanka include a wide range of products such as animal feed, plastics & plastic articles, cereals, optical, cinematographic, measuring & medical equipment, nuclear reactors, boilers, machinery & mechanical appliances, electrical machinery, equipment & parts thereof, manmade fibers, yarn & woven fabrics, precious & semi-precious stones and metals and paper & paper boards.
According to the Board of Investment of Sri Lanka (BOISL), the value of total U.S. investments in the island from 2005 to 2018 stands closer to USD 457 Mn. The statistics published by Sri Lanka Tourism Development Authority indicate that however the number of tourist arrivals from the U.S. dropped by about 64% to 6,124 in 2021 compared to 16,842 arrivals registered in 2020, due to the COVID-19 pandemic.